Our volunteers are expected to be ready to respond 24 hours a day, 7 days a week and 365 days a year. Our team is made up of 37 men and women who live, work and recreate in the county.
Our volunteers spend hundreds of hours honing their skills in all areas of rescue procedures including:

Mountain Rescue
High Angle Rescue
Swift Water Rescue
Avalanche Rescue
Cave Rescue
Navigation
Lost Person Search
Helicopter Operations
Open Water/Dive
Wilderness Emergency Medicine and Patient Evacuation
Backcountry Skiing and Snowmobile Rescue
Public Outreach And Awareness
Salt Lake County Search and Rescue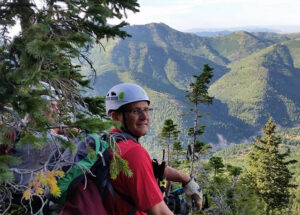 John Patterson/ SAR 900
Designation: Commander

John grew up in southern California enjoying the beach and mountains. He enjoyed every outdoor activity that California had to offer. Hiking, fishing, climbing, whitewater rafting, mountain biking. During his Army enlistment the love of the mountains grew while stationed in Colorado and Germany. After the Army he returned home to finish school and start a family. While rock climbing in the San Bernardino Mountains he ran into the local SAR team practicing rope skills. That encounter started the passion for rescue. He joined the San Bernardino County Sheriff Wrightwood team. After a couple years on that team John and his wife decided to move the family to Salt Lake. Still having the rescue bug he joined SLCOSAR and 20 years later and two teams is still running out the door for rescues.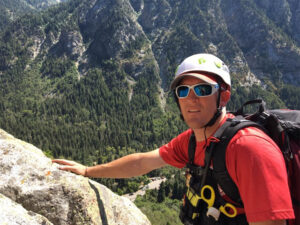 Ryan Clerico/SAR 901
Designation: Assistant Commander /Medical Instructor/RROC II/SRT1

A native Floridian, Ryan grew up surfing, wakeboarding and fishing but was bitten by the mountain bug in college in western North Carolina. After a brief stint back in Florida for graduate school, Ryan packed up his family and headed west in 2006. He enjoys all of the outdoor activities Utah has to offer in each of its four seasons, including backcountry skiing, rock and ice climbing, hiking, biking and water sports. Ryan keeps in shape for SLCOSAR's busy rescue season as an active member of the Salt Lake Tri Club, and he is also part of the Brighton Ski Patrol and Wasatch Backcountry Rescue. When he's not out and about in the Wasatch, he enjoys spending time with his wife and three children (and a bunch of animals) on their mini-farm in Riverton.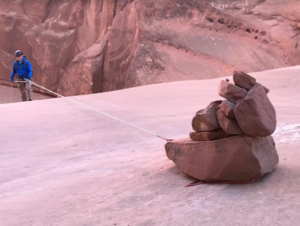 Alan Bergstrom/ SAR 902
Designation: Past Commander/Squad Leader / Training Officer / Drone Pilot / Hoist Attendant /SRT1/ Scuba Support

As an Air Force brat, Alan lived in 15 places in 18 years. But his love of the outdoors didn't begin until he moved to Utah to attend college. During that time he learned of the U.S. Air Force Pararescue (PJs). From that time, he planned to someday be involved with Search & Rescue. Then came the fun part. If it's outdoors he is interested. Hiking, backpacking, climbing, mountaineering, backcountry skiing, mountain biking, wilderness medicine, whitewater, etc. etc. etc. He loves to do it and loves to teach it.
Alan, his wife and three children all enjoy travel and the outdoors. He has travelled to 40 countries working as an engineer for 19 years and in international business for 15 years. With 18 years as a Search & Rescue volunteer, he's almost got that third career.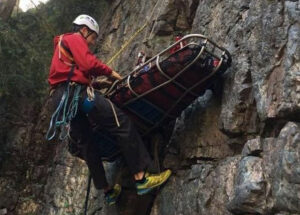 Michael Finger/ SAR 903
Designation: Squad Leader/ High Angle Specialist / Hoist Attendant / RROC Instructor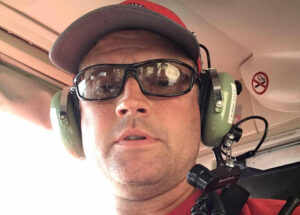 Spencer Fowler/ SAR 904
Designation: Squad Leader / Drone Pilot Instructor / SRT1/ Scuba Diver/ Public Safety Diver

Spence grew up in Utah and was exposed to all of the amazing adventures it and other states have to offer at a young age. He has been hiking, camping, four wheeling, boating, snowmobiling, mountain biking, skiing, atv'ing, hunting, back country adventuring, scuba diving, and even sky diving, most of his life. With the team, he has added swiftwater technician, public safety diving, rock climbing and drone operation to his abilities. He first joined the search and rescue team for three years in the late 90's. Due to a busy family life, he took a break from rescue and joined back up in 2006 and enjoys the friendships and camaraderie of some of the most experienced backcountry individuals in the world. He loves giving to the community this way and does so with the full support of his wife and five daughters (and a couple son-in-laws) Spencer currently lives in West Valley City and works for Rocky Mountain Power as a Project Manager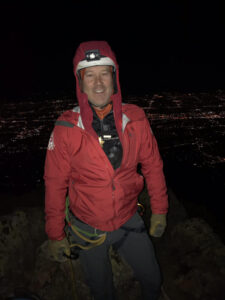 Todd Taylor/ SAR 905
Designation: Squad Leader / Helicopter Specialist / Hoist Attendant/SRT1/ Assist Training Officer

Todd has always loved spending time outdoors in the mountains and canyons of Utah. He learned how to survive outdoors, read maps, backpack, ski, climb, rappel, and mountain bike in his youth. As an adult, he became aware of Mountain Rescue and in 2013 took the necessary steps to join the SLCOSAR team. It has been one of the most rewarding experiences of his life.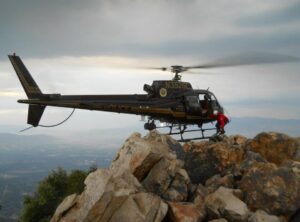 Ben Robertson/ SAR 906
Designation: Squad Leader/Training Instructor Assistant

Ben grew up at the base of the cottonwood canyons in Salt Lake City and spent as much time as possible snowboarding and climbing. Ben joined SLCOSAR in 2010 and was instantly hooked. In 2016 he pursued a job in Oregon and joined Portland Mountain Rescue. A few years later, he returned to SLC for a new job, and rejoined with SLCOSAR. Ben works in supply chain management for outdoor equipment/apparel companies. He enjoys the Oregon Ducks, being severely caffeinated, and playing in the mountains. He dislikes horses and traffic.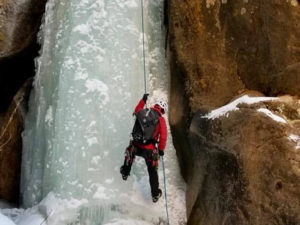 Shawn Kenney/ SAR 907
Designation: Squad Leader/Training Instructor Assistant/SRT1/ RROC II/Drone Pilot

From a young age, Shawn's love of the outdoors and adventure inspired him to pursue many hobbies and skills including rock and ice climbing, hiking, back country skiing, canyoneering, back packing, paragliding, dirt biking, mountain biking, scuba diving, sailing, and boating. These joys were compounded by sharing them with his wife, children, grandchild, friends, and in the service of others through Salt Lake County Search and Rescue. Shawn is an entrepreneur and real estate broker who owns and operates five real estate offices throughout Utah. He has been volunteering with Salt Lake County Search and Rescue since 2014.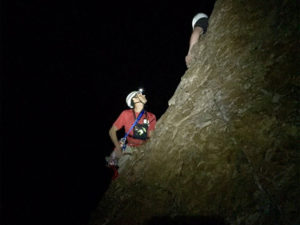 Ryan Cuzme/ SAR 908
Designation: Squad Leader/SRT1/ RROC II Asist

Ryan moved to Utah for work in 2010, and the outdoors sucked him in. He's been snowboarding his whole life, and once in Utah began rock climbing, splitboarding, trail running, hiking, and backpacking. He enjoys helping people in the outdoors and teaching people new skills. He joined SAR in August 2013, and has been a squad leader for several years now. Ryan's great wife Susie has supported him throughout the years on the team, and they have one little daughter at home.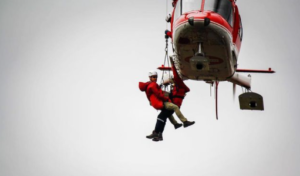 Kevin Nguyen/ SAR 909
Designation: Squad Leader/Rescuer 1/SRT1/Public Safety Diver

Kevin has grown up serving his community in various ways and his favorite so far has been with SLCO SAR. He enjoys recreating in the Wasatch mountains, doing a variety of different sports. When he's not helping with a search or carrying his 50lb pack up Mt. Olympus in the middle of summer to give someone water, he works as a consultant and loves to spend time with his friends and family. Hopefully he gets to meet you on the trail mountain biking and not in the beanbag during a rescue.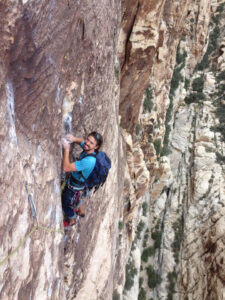 Dennis Berry-Rieser/ SAR 910
Designation: Squad Leader/Rescuer 1/SRT1

Dennis is a Salt Lake City local and grew up exploring the Wasatch Mountains. He enjoys skiing, climbing, and running as his main outdoor pursuits. Dennis studied Athletic Training as an undergraduate and is now attending medical school at the University of Utah. He has been volunteering with Salt Lake Country Search and Rescue since 2016.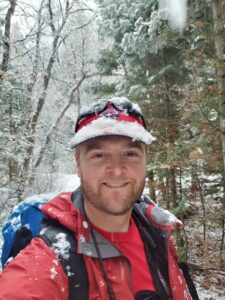 Stephen Smith/ SAR 911
Designation: Squad Leader Assistant / Drone Pilot / Assist Medical Officer

Steve comes from 20 years of service in Fire and Rescue, Healthcare, and the USAF. He enjoys cycling, climbing, skiing, and volunteering. He is married with 2 kids. Steve has been on the team since 2017.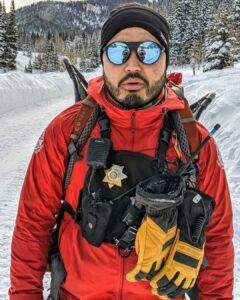 David Robles/ SAR 912
Designation: Squad Leader Assistant/ Dive Tender

David has lived in Utah his entire life. He enjoys mountain biking, running, rock climbing, and skiing. His love for the outdoors and serving his community started at a young age so volunteering for the Search & Rescue team made sense. He currently works as an educator, resides in Murray with his wife and two kids, and hopes to see you recreating along the Wasatch Range when he's not in his rescue gear.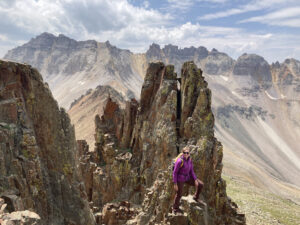 Darby DeHart/ SAR 913
Designation: Squad Leader Assistant/Dive Tender

Darby was born in San Antonio, Texas, but moved to Salt Lake with her family at a young age. She has lived the majority of her life exploring and running around most of Utah including the Wasatch Mountains and Moab valley. Darby attended the University of Utah for college where she achieved multiple degrees including three bachelors degrees and a Masters in Wilderness Emergency Medicine. She enjoys skiing, climbing, hiking, running, canyoneering, and pretty much any activity that gets her outside. She works as a paramedic, ski patroller, and EMS instructor. Darby has been volunteering with Salt Lake Country Search and Rescue since 2019.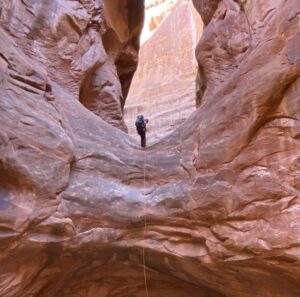 Mac Brubaker/ SAR 916
Designation: Rescuer 1/SRT1/ /RROC II

To increase capacity to serve, in the past year Mac has become a licensed Utah Emergency Medical Technician, been certified as a Canyon Leader I by the American Canyoneering Association and completed National Park Service Advance High Angle Rescue Training. He moved to Utah to attend Brigham Young University where he received a Civil Engineering Degree. He first joined Grant County, New Mexico's Search and Rescue Team while serving a Church mission there. He has been on the Salt Lake County team since 2013.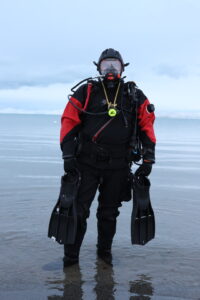 Sean Parsons/ SAR 917
Designation: Rescuer 1/Public Safety Diver

Sean grew up in Pennsylvania where he learned to love hiking around the Appalachians. When he moved to Utah in 2010 he learned to love REAL mountains. Sean enjoys hiking, rock climbing, skiing, scuba diving, snowmobiling, flying drones, and swimming. His wife says he has too many hobbies but to him, they are all training for Search and Rescue. Sean has been a member of Salt Lake County Search and Rescue team since 2017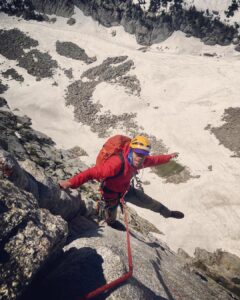 Vlad Pascu/ SAR 918
Designation: Rescuer 1

Vlad grew up in Romania, and moved to the USA in high school. While attending University of Florida, Vlad discovered his passion for rock climbing -- No, there is no rock climbing in Florida, but him and his friends used to drive 8-10 hours north at least twice per month to go climbing in North Carolina, Tennessee, and Alabama. After collage, Vlad started working as a rock climbing guide, and slowly made his way West, climbing in all the spots along the way. These days, you may find Vlad backcountry skiing with his wife, and their dog, or on the side of a highway inspecting UDOT construction projects. Stop and say hi when you see him out and about (but maybe not on the side of a highway since that might be sketchy.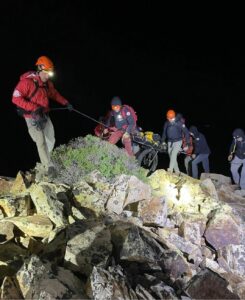 Rick Vollmer/ SAR 919
Designation: Rescuer 1/Drone Pilot

Growing up with an outdoor focused family I developed my enjoyment for the outdoors at a young age and continued these passions through my adult life and to SLC SAR. Some of these outdoor activities include skiing, hiking, mountain biking, climbing, fly fishing, sailing, waterskiing etc. Many of these activities are shared with my wife and two adult sons. My career takes me to the US Air Force as an aerospace engineer and to balance things out I am a member of the Brighton Ski Patrol and Salt Lake County Search and Rescue.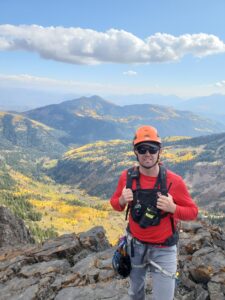 Mark Squire/ SRT1/ SAR 920
Designation: Rescuer 1/ SRT1

Mark has been with the team since 2015 and has been exploring the Wasatch Front on skis, mountain bikes, and ropes since the late 90s. Though he's best suited in an outdoor environment you can often find him refining his climbing techniques at Momentum Climbing Gym.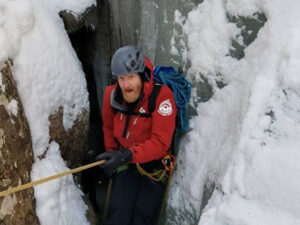 David O Haroldsen/ SAR 921
Designation: Rescuer 1/SRT1/RROC2

Dave (aka DOH) has been a Salt Lake County SAR volunteer since 2015. He's been rock climbing since the frikin 80s (late 80s that is) and likes bagging peaks, snowboarding, backcountry touring (split board and skis) , mounting biking and getting in an ice cold creek for a soak. Also, plays guitar and is learning piano.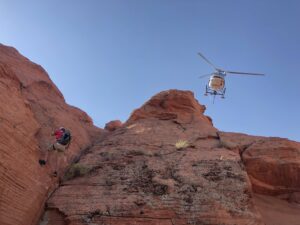 David Carruth/ SAR 922
Designation: Rescuer 1/Public Safety Diver

Dave and his wife Kim live in Sandy. He is a father of 4 children and grandfather of 8. He enjoys spending time with his family and is an enthusiast of outdoor activities including water skiing, snow skiing, canyoneering, golf, hiking, mountain biking, kayaking and scuba.
His motto is:
"Work hard, play harder, Sleep is for the ugly."
When he's not goofing off with the aforementioned activities he spends his days as the Golf Course Superintendent for Murray Parkway Golf Course where he has been working for 35 years.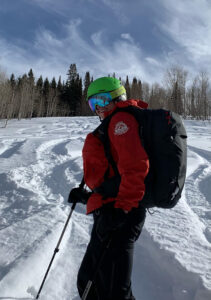 Alessia Banning/ SAR 923
Designation: Rescuer 1

Alessia enjoys long bushwhacking hikes in the dark looking for GPS cellphone pings. When she can't do this she is nurse and hospital leader. She is a skier, snowboarder, hiker, runner, mountain biker, aspiring climber and loves exploring the Wasatch with her husband, family, and SAR teammates. She enjoys giving back to her community by combining her passion for the outdoors and her love of patient care.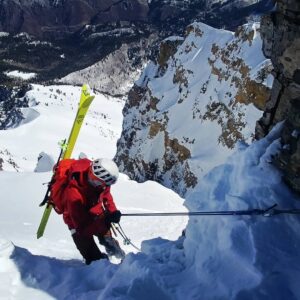 Sean Tropsa/ SAR 924
Designation: Rescuer 1

Sean grew up in Arizona hiking, climbing, and canyoneering in the wild spaces throughout the state. After graduating from ASU, he moved to Utah for a job (but also to finally live closer to some mountains for backcountry skiing). Since moving to Utah, he has taken up ice climbing and packrafting, and fully embraced the art of the dawn patrol, often climbing or skiing lines in the Wasatch before work, and taken full advantage of SLC's location to climb/canyoneer/raft/run/ski in the nearby deserts and alpine areas throughout the intermountain west. When not out playing in the mountains running, climbing, or skiing, Sean is at home in Sandy where he works for a Analytics Software company or is out volunteering for SLCOSAR as a way to give back to the outdoor community and help others.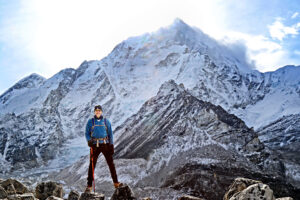 Phil Cook/ SAR 925
Designation: Rescuer 1

The mountains have always been an inspiration in Phil's life. Besides the challenge and elation of summiting high peaks, and the unstoppable beauty ranging from broad vistas to fleeting high-mountain flowers, they have provided rich experiences with people from other cultures and walks of life. Differences between people become strengths in the shared experiences of the outdoors, and broaden one's view. After building a career in real estate valuation and expert testimony, and raising six children with his very supportive wife, he found the opportunity to serve his community on Salt Lake County's Search and Rescue team. That often takes him to the mountains. He is beyond impressed with the commitment and capabilities of his fellow team members.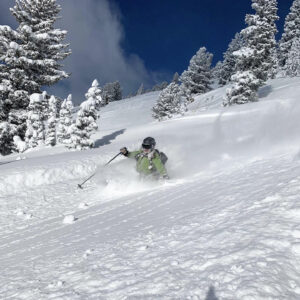 Sofia Tuttle/ SAR 926
Designation: Rescuer 1

Sofia moved to Utah in 2015 for "just one ski season" and has stuck around for every ski season since. She enjoys skiing, mountain biking, trail running, pizza eating, and waiting in the Lone Star drive-through line. She enjoys being a part of search and rescue because of the opportunity it provides to give time and care to fellow outdoors people in need, all while spending time in the mountains we all love.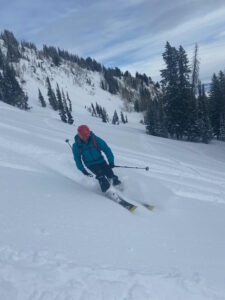 Brad Muggenborg/ SAR 927
Designation: Rescuer 1

As a child, Brad excelled at games such as Hide & Go Seek, Marco Polo, and King of the Hill making him an ideal candidate for SAR. He grew up skiing in the Wasatch Mountains, inspiring other activities such as hiking, mountain biking, climbing, and ski patrolling with his wife. When he can't play outside he works as a nurse in the ICU. He has been a volunteer since 2018.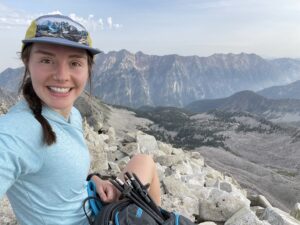 Jessie Montgomery/ SAR 928
Designation: Rescuer 1

Jessie was born and raised in Reno, Nevada but moved to Salt Lake City to attend the University of Utah in 2015. Quickly after moving to Utah Jessie discovered her love for the outdoors and began her journey as a jack of all trades, master of none, dabbling in canyoneering, rafting, backpacking, mountain biking, rock climbing, and bikepacking. She has loved sharing her passion through guiding trips for the University of Utah and serving her community through the Salt Lake County Search and Rescue team. Jessie graduated from the University of Utah in 2020 with a degree in Chemistry and now works at Primary Children's Hospital in Salt Lake. She has been a member of the Search and Rescue team since 2018.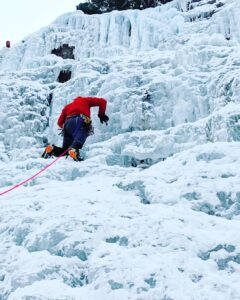 Patrick Kolbay/ SAR 929
Designation: Rescuer 1

Patrick grew up in Utah and was part of the outdoor community at a young age, skiing at the age of 3 and backpacking at 7, slowly growing his outdoor hobbies and skills to include rock climbing, ice climbing, canyoneering, backcountry skiing, mountain biking, rafting, trail running, and more. In college, he started using these skills for the benefit of others—guiding for the University of Utah, volunteering for Brighton Ski Patrol, and of course joining the Salt Lake County Search and Rescue Team. Beyond Patrick enjoying his time with his wife in the outdoors, he also works as a biomedical engineer designing and developing medical devices for the ICU.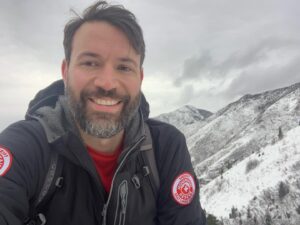 Jon Zadra/ SAR 930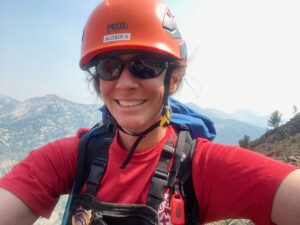 Alexis Abelow/ SAR 931
Designation: Rescuer 1/Public Safety Diver

Alexis was born and raised in Lake Tahoe where she was an avid skier and mountaineer, runner, backpacker, and swimmer. She moved to Utah for graduate school and continued the adventure by adding climbing, mountain biking, canyoneering, scuba diving, and wilderness medicine to the mix. On the team, Alexis has added public safety diving to her repour. She loves being able to give back to the community as part of the SLCOSAR and the comradery formed through long days in the mountains with teammates. When not enjoying type 2 fun, Alexis works as a chemist designing and developing medical devices.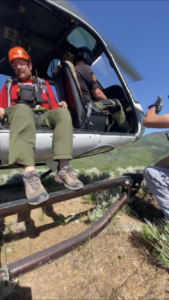 Peter Crowley/ SAR
Designation: Rescuer 1

Almost two decades ago, Peter was attending a seminar on aligning goals, values, priorities, and time management, which caused a lot of self reflection on a life lived mostly out of alignment. Since then, he has volunteered for many organizations that align with his values, including on a rural ambulance service, on a ski patrol, on Salt Lake County Search and Rescue, and he currently holds a leadership position in Disaster Response in the Greater Salt Lake Area Chapter of the American Red Cross. He has completed several full distance Ironman races, and after a disastrous bicycle crash in the middle of a race in 2018, is working to heal and get back to that level of competition. Peter works for Crowley Software Consulting, LLC as an IT Project Manager and Software Developer.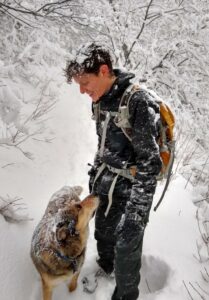 Summer Davis/ SAR 933
Designation: Rescuer 1

Feeling weighed down by a life devoid of brains and beauty, Summer Davis eventually discovered a talent for walking, pedaling, sliding on snow, and grasping for handholds, often finding refuge in the desert canyons and snow-capped mountains of Utah. Having accepted an existence wanting for healthy routine and structure, she was drawn to Search and Rescue for the randomness of its callouts and her ability to identify with the lost and unlucky.

After spending the past few decades moving from one location to another along the Wasatch Front (thanks to the exciting opportunities her career in clinical research and billing compliance afforded her) she decided to eventually settle down and stay put in Salt Lake County. She's most recently found joy soaking up some hard-earned, pandemic-era social isolation. Relieved from the stresses of adventuring in foreign lands and beautiful new places, she's refocused her efforts towards celebrating, and enthusiastically accommodating the quirks of her stubborn, human-phobic canine.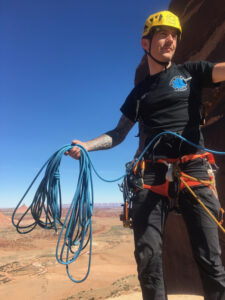 Ben Eder/ SAR 934
Designation: Rescuer 1/PSAR Coordinator

Ben is an avid rock climber, skier, alpinist, and dog dad. He volunteers for search and rescue as a way to give back to the outdoor community he loves so much.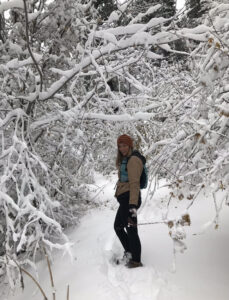 Jennifer Tanner/ SAR 936
Designation: Rescuer 1

I grew up in these mountains. My grandma would take me and my cousins out camping and hiking every summer, we were the "Cousin Campout Capers". We had hats and even shirts, I think. Our motto was "Leave it better than you found it". My Grandma taught me the names of the plants on the trail, but it was my dad that taught me outdoor survival. From the time I was very little he had me out on a boat. From sailing Hobie Cats at Deer Creek, to sailing houseboats at the Great Salt Lake, to fishing in the ocean in Alaska. I joined Search and Rescue to learn from the best of the best, tackle a rewarding challenge, and find deep meaning in helping people. I'm really excited to be one of the newbies on this team.
Mark Torres/ SAR 937
Designation: Rescuer 1

Originally from Massachusetts, Mark has spent the last 11 years active duty with the Army's Military Intelligence Corp. Serving in locations such as South Korea, Hawaii, Afghanistan, Germany, and Maryland. Hobbies include climbing, camping, backpacking, and skiing. Mark has been a member of Salt Lake SAR since 2021.
Wayne Bassham/ SAR 950
Designation: Past Commander/Dive Master/PIO/SRT Instructor/MRA 2024 Fundraiser

In 2001 Wayne fell in love and became very passionate about scuba diving. In 2009 there was a report of a missing young man in the Jordan River. Wayne was drawn to this so much that he requested to join the Salt Lake County Sheriffs Search and Rescue team. Since 2009 he has been heavily involved with the team and even the duties of commander for five years. To this day he still volunteers focusing on training his teammates in scuba diving, swift water and is also the public information officer for the team. One of his new tasks is to hold and oversee the International Mountain Rescue Association (MRA) spring conference in 2024 in Salt Lake City.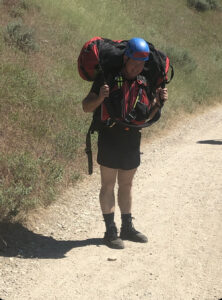 Mike Loyd
Designation: UPD/ SAR Coordinator/SRT1

Salt Lake County Search and Rescue respond to around 75 incidents per year.   The member volunteers spend around 10,000 hours per year on rescues and trainings saving the citizens of Salt Lake County hundreds of thousands of dollars while maintaining required certifications and supporting and educating the public about safety. SAR volunteers risk personal safety to rescue and save lives proving to be the epitome of selfless service to the community. The SAR team hosts and instructed a basic Rock Rescue class every Spring  for Search and Rescue agencies throughout the state. Team members have traveled to other states to instruct, train and gain valuable certifications and knowledge to benefit the safe rescue and recovery efforts to the citizens and visitors of Salt Lake County. The team members receive no monetary compensation for their personal expertise, knowledge, equipment, and transportation to and from these events. During the summer months and some weekends, the team sometimes respond to as many as three rescues a day. Some responses last throughout the night and into the next day. These devoted and dedicated volunteers take time out of their work schedules, family life and personal time to ensure the citizens of Salt Lake County are protected and saved when the calls for help come in.
The Search and Rescue Team has been the subject of many news stories by local news agencies which has brought very positive light to the Office of the Sheriff. One of their rescues was even part of the Super Bowl Lll Commercial.